7 Things To Know About The Golden Retriever Husky Mix
With so many breeds and mixed breeds of dogs to choose from, how can you know what is right for your family?
Golden Retriever and Siberian Husky mixes, also called Goberians, first appeared around 20 years ago, and have become increasingly popular due to their adorable and unique appearance, and good temperament.
This mixed breed holds the prestige of being a combination of two of the most popular and well-loved dog breeds.
Golden Retrievers were bred to retrieve shot waterfowl but are best known for their family-friendly, good-natured temperament and their keen intelligence.
Siberian Huskies are usually recognized for their incredible sled-pulling skills but are also known as sweet, playful, athletic dogs.
Although crossing these two wonderful breeds to create a Goberian can be a great thing, it doesn't come without risks.
Crossing any two breeds of dog can be dangerous since the characteristics like appearance, temperament, and health of the resulting offspring can vary greatly.
This makes it incredibly important to thoroughly research a mixed breed before getting one, so you are as prepared as possible.
Unfortunately, because they are a fairly new mixed breed, finding information about these designer dogs from a breed association or dedicated breed website can be difficult.
Online articles such as this one, and information directly from a Goberian owner are two of the best sources at this time.
Understanding some of the most important aspects of owning a Goberian will allow you and your family to decide if this is the dog for you.
The rest of this article will address the temperament, shedding, and costs of a Goberian, plus their general exercise needs, health, size, and life expectancy.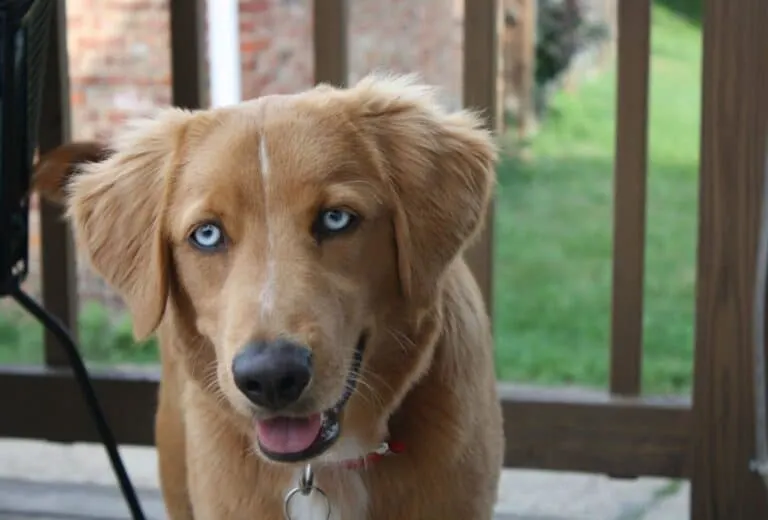 Is the Golden Retriever Husky Mix Friendly?
The short answer to this is yes. Both Golden Retrievers and Siberian Huskies are exceptionally friendly breeds, so it makes sense that a Goberian would be as well.
Good experiences with children are vital for any dog, but especially those intended to be family pets.
Their good nature helps them with this, as they are usually able to go with the flow of a household.
Additionally, adequate exercise will not only ensure they are healthy, but also prevent any aggressive or otherwise negative behaviors which may interfere with their great temperament.
It is also important to remember that "friendliness" is a trait that all dogs can learn regardless of the breed.
Animals that are poorly socialized can become timid or aggressive when faced with new people, objects, or environments making them less 'friendly.'
Dogs and other animals do best when they are regularly introduced to new scenarios beginning at a young age and continuing throughout their life.
This will give them multiple experiences and the skills necessary to adapt to different people, places, or surroundings.
In turn, their comfort in such scenarios, in addition to their attention-seeking nature will make them more friendly.
How Many Exercises Does Goberians Need?
The proper amount of exercise is a tricky thing for any breed, and the exercise needs of a mixed-breed dog can be even more difficult to gauge.
Other factors like genetics, lifestyle, and diet can increase or decrease the amount of exercise your Goberian needs each day.